When:
February 24, 2018 @ 12:00 pm – 4:30 pm
2018-02-24T12:00:00-05:00
2018-02-24T16:30:00-05:00
Contact:
Ileana Gonzales of Apurva Ayurvedic Healing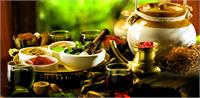 This course builds on the Level I Immersion, leading the student through an understanding of classical Ayurveda and its applications for the promotion of health. The course provides simple but very effective health management strategies to guide the participant toward a state of balance of mind and body.
Ayurveda Foundations prepares the participants to incorporate more subtle Ayurveda concepts and practices so they can experience self-healing while acquiring effective health management strategies, and are therefore better equipped to share the knowledge with their clients and students.
This class is designed for: health practitioners, acupuncturists, health coaches, nurses — anyone who can integrate this Foundational knowledge to their already existing wellness practices.
25 Hour PACE – Professional Ayurvedic Continuing Education, National Ayurvedic Medical Association
Taught by Ileana Gonzalez of Apurva Ayurvedic Healing
Register at http://easydayyoga.com/workshop.bc