Jennifer Robins of the popular Predominantly Paleo blog is an Arlington mom of three who has been pursuing a grain-free path to healing since she was diagnosed with Hashimoto's thyroiditis after the birth of her second child in 2008. Then, she began following a "primal" diet that included dairy. But after continued symptoms, she got clear in 2011 that she needed to ditch the dairy.
Jennifer generously offered to share her story from her blog with Mindful Healthy Life readers below. For anyone who thinks a dairy-free summer means an ice cream-free summer, be sure to check out her beautiful non-dairy ice cream e-book on sale for just $6.99 through Monday, July 6.
We All Scream for Ice Cream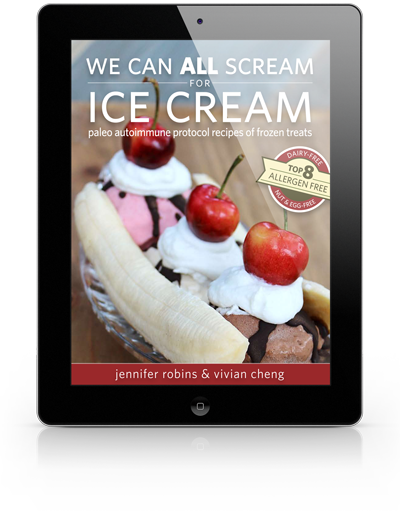 , co-authored by nutritionist Vivien Cheng, is gorgeous and includes recipes that not only omit dairy but also are free of egg and nut for those following the autoimmune paleo protocol (AIP). So the book is well suited for vegans and anyone who can tolerate coconut milk and maple syrup, the key ingredients in most of the recipes.
Let's hear how Jennifer made the transition to dairy-free and why she will never go back! Read More