Climate change has been all over the news in recent months, and moms are leading the charge. This summer, Moms Clean Air Force, the country's largest group of moms working on climate change with over 400,000 members, organized a play-in on the Capitol in early July and later that month brought the same energy to a rally supporting the EPA's Clean Power Plan.
Recently, the Keystone XL Pipeline failed in the US Senate. This is good news, says MCAF. If passed, the Keystone XL Pipeline would have dramatically increased production of Canadian tar sands oil, one of the dirtiest fuels on the planet. MCAF argues that approval of the pipeline would have endangered our country, our children's health, and the lives of many, all while worsening our dependance on fossil fuels and accelerating climate change. The issue is now to be decided by the Obama administration.
But the fight continues. On Monday, December 1, Moms Clean Air Force staff and volunteers, including local mom Jessica Hunt, delivered 175,000 comments to the EPA to ask for the strongest possible regulations on carbon pollution under the Clean Power Plan. Right now, there are no limits on the amount of carbon that can be released from coal fired plants. Our children's health is depending on us to protect them from carbon emissions that pollute the air they breathe and lead to our warming planet.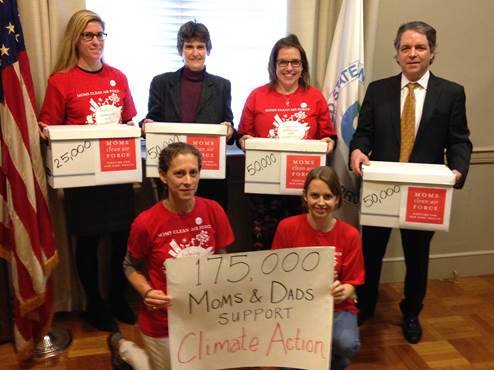 But the Clean Power Plan is under attack in most every state legislature next year with model legislation designed to kill or gut the carbon rules. MCAF is calling on its members to join the group in demanding that states work to protect our children and communities from toxic air pollution and climate change.
An easy way to learn about local events and actions on climate change and clean air is to request to join the Facebook group for Moms Clean Air Force DC, the Facebook group for the Maryland MCAF chapter, and the Facebook group for the Virginia MCAF chapter.