Leaders of Northern Virginia's environmental education scene met last week to discuss recent renovations and sustainability initiatives taken at George C. Marshall High School in Fairfax County and to discuss plans for a possible statewide environmental education organization.
Members of the leadership team of NoVA Outside, an alliance of environmental educators, took a student-led tour of the school and its green features. The school's student environmental organizations, Earth Force and the Native Species Club, sponsored by Barbara Brown have been busy for years on environmental initiatives and were successful at getting several environmental features and design components worked into the renovation.
NoVA Outside leadership team member Elenor Hodges shared some of the sustainability components that were worked into Marshall's recent renovation. Hodges, a member of the Arlington Public Schools Superintendent's Advisory Committee on Sustainability and also the director of Arlingtonians for a Clean Environment said, "I was really impressed with what they had accomplished, specifically with the student-driven projects and the excitement and engagement of the students. It was very apparent that these were students who had come up with these ideas. I was inspired, and I hope that we can learn how to take a lot of what Arlington focuses on in LEED certification and take it to the level of using student leadership and student ideas."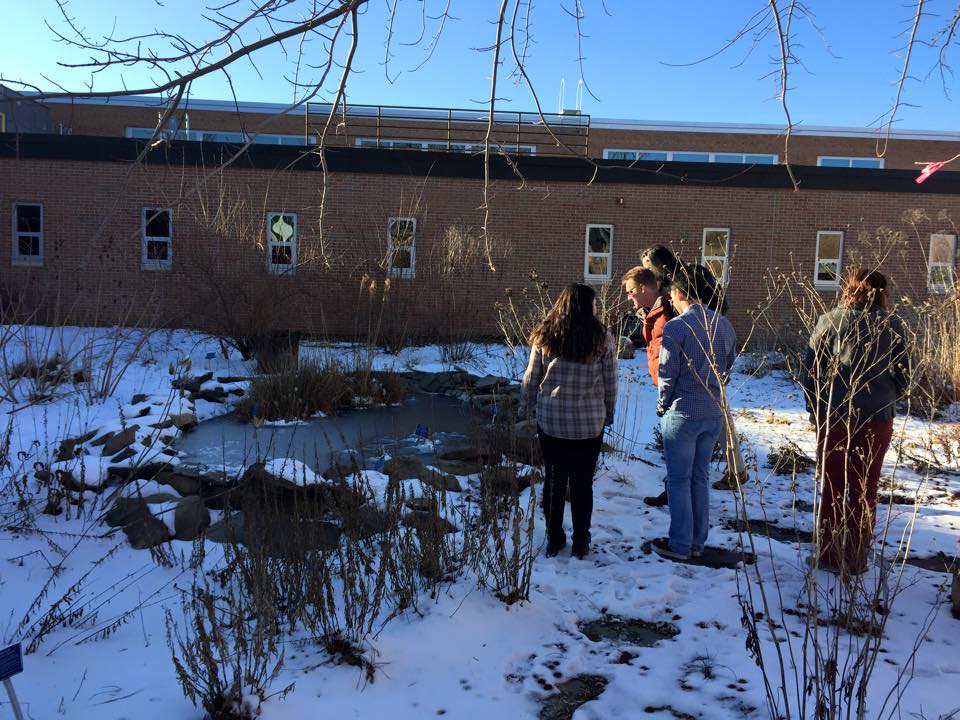 The best example at Marshall, Hodges said, was a green roof. A student who has since graduated wanted a green roof to be in a very visible location even if students did not have access to the roof. During the renovation, this was made possible. The money needed to install and expand the green roof was raised by students. The students who led the tour talked about what it does to reduce the school's stormwater impact but also noted the fact that it's a visible project that students can see every day. The students did the design, planning and fundraising for this and other projects. Hodges said Marshall has great examples of student initiatives as well as greenovation.
Hodges said there was also lots of student engagement with the two courtyards they viewed on the tour. One of which was a modern space for which, after the renovations, students in the Native Species Club designed a complementary landscape plan using native plants. One feature is this herb spiral that helps drain water down the courtyard.